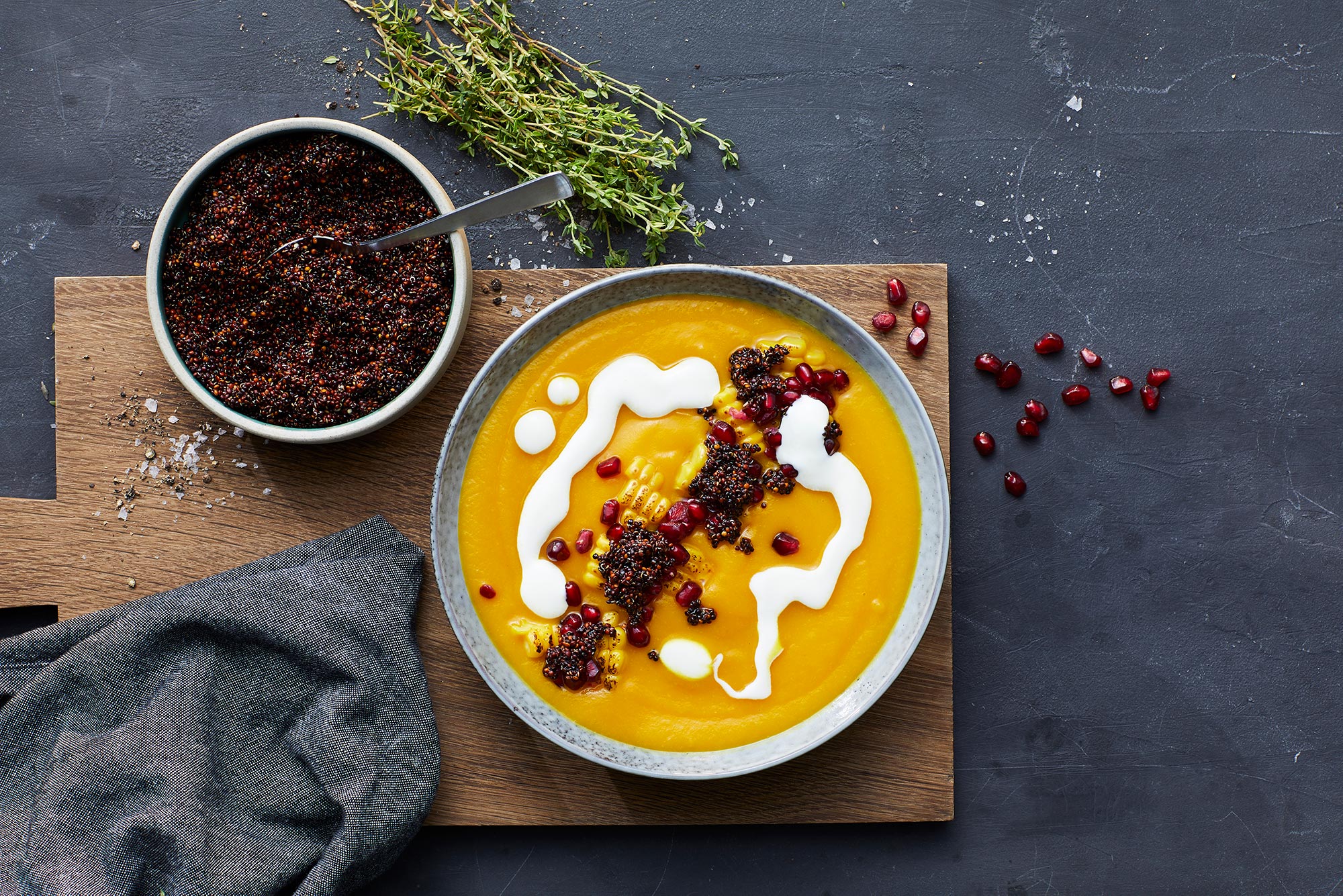 Pumpkin soup with salad cheese and grilled corn
A warm and tasty soup is some of the best on a cold evening. Top the soup with a generous spoonful of cheese sauce with Taverna Finest – the salty salad cheese provides the perfect counterpoint to a mild soup such as this delicious pumpkin soup.
Chop the pumpkin in half and scrape out the seeds with a spoon, then cut off the skin with a knife and cut the pumpkin into rough cubes of about 3×3 cm.
Peel and dice the onion and roughly chop the peeled garlic.
Sauté the onion and garlic in a little oil on a low heat for 5-6 minutes. Do not let them change colour.
Add the pumpkin cubes and the cumin and sauté for a further 2 minutes.
Pour over the hot stock and add the whole sprigs of thyme.
Cover the pan and leave to simmer for 30 minutes on low heat.
Mix the cheese with the whole milk, cover and place in the fridge.
Remove the leaves and husks from the corn cobs and boil them in lightly salted water for 12 minutes.
Cut them into flakes.
Slice the pomegranate in half and knock out the seeds by tapping the skin with a spoon or similar.
Rinse the quinoa and boil in lightly salted water for 15-16 minutes. Rinse again in cold water.
Remove the sprigs of thyme from the soup and mix it well. Season with salt and pepper.
(Adjust the consistency with more stock if the soup is too thick)
Pour the soup into four shallow bowls, place the salad cheese blend over the soup and add the corn,pomegranate seeds and quinoa.
Serve immediately.
Mere inspiration, flere ideer
Vi har delt opskrifterne op efter det rigtig mange spørger efter: Gode madidéer, hurtig hverdagsmad eller lækre retter.
Alle vore opskrifter er dels baseret på klassiske retter fra middelhavslandene tilpasset den nordiske smag og dels nye opskrifter som andre madelskere har sammensat.
Taverna oste – til kolde og varme retter